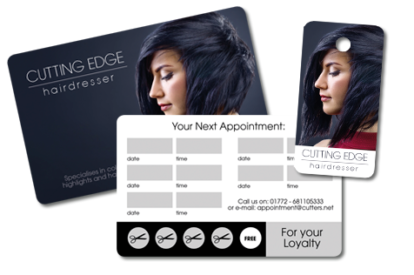 Local hairdressing is a very competitive market, you want to attract the most local people to your salon and make sure you keep them as regular customers.
Lots of businesses try the same tactics by running Facebook adverts, posting your best pictures to Instagram or setting up a mail shot campaign by sending out glossy leaflets door to door – all good options but are they really working for you and is it worth the time and cost?
At Simply Plastic Cards we can help – imagine you had one card that attracted new customers and rewarded your most loyal customers!
Our aim is to make the process simple – we can do all the artwork for you, print your cards and delivery them to you all within a week!
So imagine your card; on one side it has all the information you'd expect about your business, your logo and may be a nice glossy picture – it looks good and will attract people to your business.
What about the reverse?
Here's where it gets interesting – you could opt for a discount scheme, may be you want to mark the card every time a customer visits and then offer a discount on the fifth visit for example – a very popular option amongst coffee shops and cafes.
Another option is to have an appointment card on the reverse. You can write you clients next appointment on the back of the card and when it goes into the purse or wallet you know it's not going to bend or get damaged.
Standing out from the rest
Finally, if you really want to stand out from the rest what about a matching key tag? Key tags are common amongst supermarkets but why not have them with your business details on – this will really impress your customers and increase the chances of their friends seeing your business details!
What about gift cards?
You've probably had customers asking for gift cards or gift vouchers, a handy present for a friend or relative. Most Salons will have a stock of printed vouchers with a handwritten cost on them.
What about a series of gift cards like you see in your favourite clothes shop? With plastic gift cards there is the option to display them on a stand next to your till or cash register reminding clients they can purchase them as gifts when they need!
Is it costly for plastic cards?
No, plastic cards may not cost as much as you think – check out the Quick Price Calculator and you'll see they are very cost effective solution! And what's more a plastic card will last much longer than a paper card or a handwritten voucher!

If we can help any further or for more information about our artwork services please give us a call or email hello@simplyplasticcards.com